Desert Invasion - U.S.
Pictures of foreign ID used by illegal aliens
Click on image to enlarge
Set 1
These documents were found by Henry Harvey at layup points near Sierra Vista, Arizona.
Next - more pictures of foreign ID.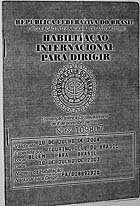 International drivers license issued by the Brazilian embassy. Many Brazilians are apprehended crossing the border. This document was found early one morning at a layup stop about 15 miles inside the border the next day after it was issued. The owner made an express trip through southern Arizona and left the document behind.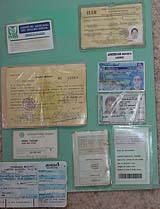 Various forms of illegal ID.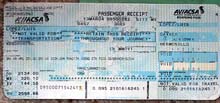 Airline ticket (legitimate). Often illegals will fly to their destination near the Mexican border.
Mexican scholastic achievement certificate issued in 1999 by the Minister of Education for the State of Pubela. It certifies the recipient has achieved the level of grade 9.1.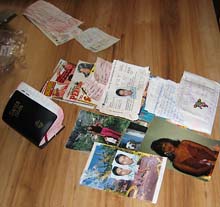 Various ID and personal items. Note pictures of family and dog, Mexican bible, girlie magazines, airline tickets.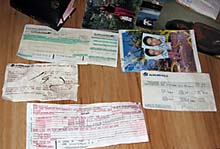 Various ID and personal items. These are often lost or discarded at layup points after illegals cross the border.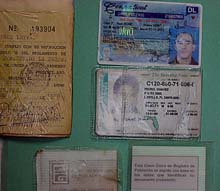 Various ID and personal items. The brownish form is a military service record for a man some fifty years old.
In the past, illegals aliens carried documents in case they were apprehended by the Border Patrol, to prove that they were Mexicans and to facilitate a quick return to the border. Without Mexican ID, people are processed differently in order to determine if the individual is an other-than-Mexican (OTM).
Formerly, upon pickup by their smugglers at the pickup area, illegals would discard their documents in case they were later arrested in other states, hoping not to easily be identified as an illegal alien, since they wouldn't have Mexican documents in their possession. Now, because many states accept non-secure Matricula Consular ID cards, illegals retain documentation necessary to obtain a Matricula ID. As of mid-2004, birth certificates are no longer being found at layup and pickup areas. Illegals are apparently retaining them to apply for a Matricula Consular ID card in their destination cities.