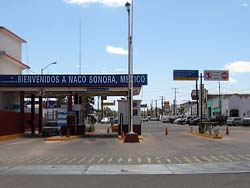 Looking south at the Naco port of entry into Mexico.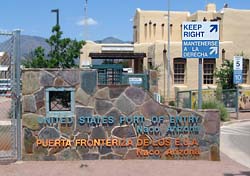 Looking north from Mexico at the U.S. port of entry.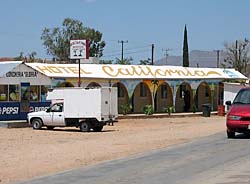 Hotel California in Naco, Mexico, on the U.S. border. Here, Mexican citizens (and citizens of other countries) congregate while preparing for their illegal entry into the U.S.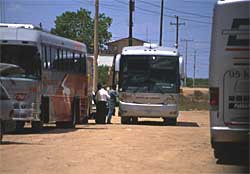 On the afternoon this picture was taken in May of 2004, four vans stopped across the street from hotel California and dislodged about 30 passengers. The passengers walked 3 blocks and boarded a bus with a destination of Tijuana. It appeared that they were headed toward an illegal entry into California.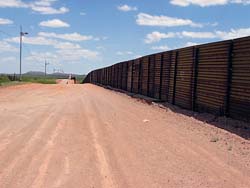 This fence separates the U.S. and Mexico at Naco. It was built to keep illegal traffic away from the populated area of Naco. Unfortunately, it only extends for a few miles and is constructed so as to be easy to climb. Most of our border is protected only by a 3-strand barbed wire fence.