Organ Pipe Cactus National Monument celebrates the life and landscape of the Sonoran Desert. The Monument contains an extraordinary collection of plants of the Sonoran Desert, including the organ pipe cactus, a large cactus rarely found in the United States. The monument contains over 330,000 acres and serves as an outstanding natural preserve, protecting one of the Earth's major ecosystems in nearly unspoiled condition.

The Monument is located 100 miles west of Tucson, between the Arizona Ajo Mountains and the Mexican border. Organ Pipe National Monument is the only place in the United States where the organ pipe cactus is found, as well as 25 other varieties of cactus.

Numerous creatures live in the Monument, having adapted to extreme temperatures, intense sunlight and little rainfall. Elf owls, kangaroo rats, most snakes, and jackrabbits, are active at night. Bighorn sheep, most birds, javenlinas and coyotes are active during the daytime. Wildflowers include pink owl clover, golden poppies, and blue lupines. In spring, after adequate rain has fallen, the lavender-white flowers of the organ pipe cactus unfold.


Additional information

National Park Service information and maps

DesertUSA, including maps Map of Monument

GORP - Organ Pipe National Monument

GORP - flora and fauna of the Monument

GORP - Quitobaquito Spring, an oasis in the Sonoran Desert, in Organ Pipe National Monument

GORP - border areas describes biological diversity of desert regions

10 most endangered parks, National Parks Conservation Association:

"Undocumented border crossings have created hundreds of miles of illegal roads and trails, left huge quantities of trash and debris, and drained or polluted the monument's precious few natural water sources. Natural and historic resources are often found covered in graffiti or destroyed by fires set by border crossers."

Wildflower photographs from WorldFromTheWeb.com

Photograph: Saguaros, Organ Pipe National Monument by Saelon Renkes


Half of the monument is now closed due to the danger from illegal alien and drug runner traffic!
See articles on Organ Pipe National Monument.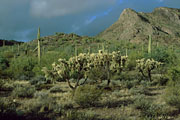 New!
See more pictures