Boundless desert surrounds you in Cabeza Prieta, the third largest national wildlife refuge in the lower 48 states. Here, seven rugged mountain ranges cast shadows over barren valleys once swept by lava. Saguaros loom in stark profile above the baked earth. A 56-mile, shared border with Sonora, Mexico, might well be the loneliest international boundary on the continent.

Imagine the state of Rhode Island without any people and only one wagon track of a road. Cabeza Prieta NWR is that big, that wild and also incredibly hostile to those who need lots of water to live. Yet, within a landscape at once magnificent and harsh, life does persist, even thrives.

Temperatures may top 100 degrees F for 90 to 100 straight days from June to October. Summer thundershowers and winter soaking rains average about 3 inches on the western part of the refuge and up to 9 inches on the east side, 60 miles away. The winter and summer pattern of rainfall in the Sonoran desert stimulates the growth of more plant species than in most deserts. You'll find creosote and bursage flats, mesquite, palo verde, ironwood, and an abundance of cacti, including ocotillo, cholla, and saguaro on the bajadas (southwest colloquialism for sand, silt, and gravel deposited by running water on the slopes of mountain ranges).

Endangered Sonoran pronghorn and lesser long-nosed bats call this parched land home, as do desert bighorns, lizards, rattlesnakes, and desert tortoises. Elf owls peer from holes carved in saguaros by Gila woodpeckers. Every plant and animal has adapted to life we would find uninhabitable. Far from a barren desert, Cabeza Prieta NWR harbors as many as 391 plant species and more than 300 kinds of wildlife.

Over 90 percent of the refuge was designated as wilderness by the 1990 Arizona Wilderness Act.

(Courtesy U.S. Fish and Wildlife Service)



"Ed Abbey considered the Cabeza Prieta our greatest intact desert wilderness -- largely unknown, unvisited. I wonder if the Feds know what they've got here: the last best shot at a big, self-regulating ecosystem in the Lower 48, a once-in-a-lifetime chance to create true wilderness in the closing years of the 20th century."

-- Doug Peacock, "Desert Solitary," in Audubon (March-April 1998)


Additional information
US Fish and Willife Service information

Map of reserve

The Wilderness Society information

National Wilderness Preservation System information

Side Canyon information and map

Proposal for new national park


Article
Ghost highways - Arizona desert scarred by illegal immigration traffic
By Kathleen Ingley, The Arizona Republic, May 15, 2005

CABEZA PRIETA - Here is where every member of Congress who hesitates on immigration reform should come. They should stand on high ground and see desert without end.

Cabeza Prieta National Wildlife Refuge is almost unimaginably vast and isolated: one-third larger than Rhode Island with a population of zero.

It was put under federal protection in 1939, a place where an intrepid backpacker could hike for days without seeing a trace of humans. Bighorn sheep, desert tortoises, pronghorn and all the other shy and wonderful creatures of the desert found a tranquil haven here.

Until the illegal roads came.

Six years ago, rangers began noticing tire tracks slashing across the virgin desert. Coyotes, facing heavy enforcement in more urban areas, were trying a new route for smuggling undocumented immigrants.

A few tracks multiplied into a dozen. A hundred.

The tracks turned into roads. When one spot got impassable, drivers tore through the desert alongside or struck out in another direction.

More than 90 percent of Cabeza Prieta is officially designated wilderness, where vehicles are banned....

But here they are, more than 200 miles of illegal roads forming a phantom highway system. They snake north to connect with the road network beyond the refuge in the Barry M. Goldwater Range.

Now narcotics peddlers have joined the crowd. In 2004, almost 20,000 pounds of drugs were seized in or next to Cabeza Prieta.

Abandoned vehicles litter the landscape. To shade themselves from the sun, people clear out vegetation under trees, killing the slow-growing baby plants that were sheltered there. Foot traffic has skyrocketed, with smugglers brazenly taking groups as large as 100 people. They leave behind a trail of trash, an estimated 8 pounds per person.

This isn't a wildlife refuge. It's a landscape under assault....

Read more of the article.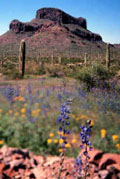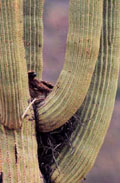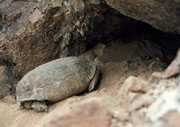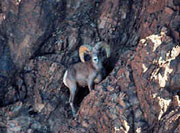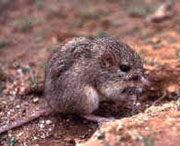 (Photos courtesy U.S. Fish and Wildlife Service)